The snag with playing online rummy is that you must have access to a desktop computer or laptop always. Therefore, what do you do when you get this urge to engage in a game, while outside the house or away from a Cyber café? You simply gain entry to the official website of Rummy Circle via a special app! We call it the Rummy Circle App, and you may download it after you become a registered member of the company.
The card game app is useful for several reasons.
User-Friendly Interface
Navigation is easy, which should please you if you are not highly tech-savvy. Then again, the colors, although rich, are visually appealing. Best of all, you are welcome to experiment with several 'rummy' tables simultaneously.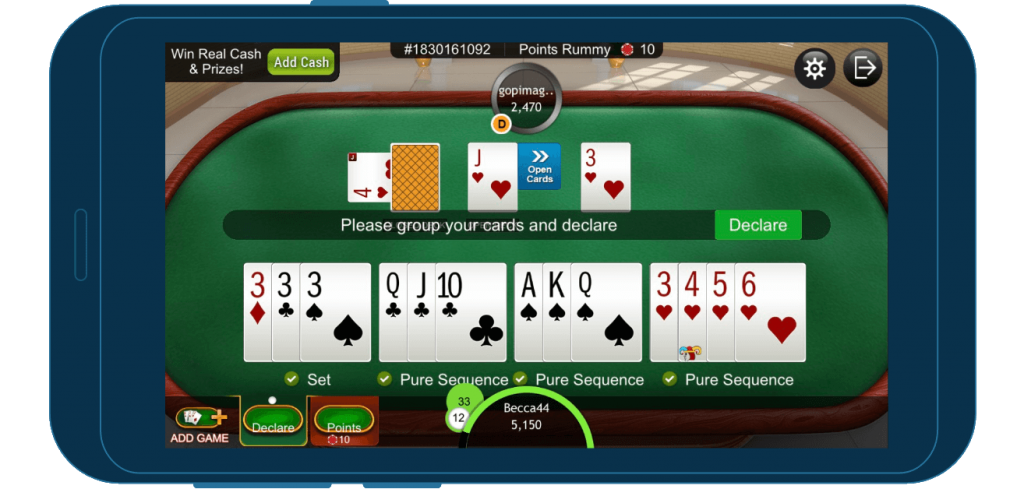 Distraction-Free
It should prove a great relief to view a neat interface, free of clutter. Yes, we have ensured that there are no irritating pop-ups, distracting banners or unwelcome advertisements to destroy your concentration. You will be able to focus entirely on your game, for a wonderfully lively experience!
A Memorable Experience
Since our experts have gone all out to make the app work speedily and smoothly, you should have no issues with handling it. You will be able to judge for yourself after witnessing the speed of a game downloading on the interface. The placement of the game tables, as well as the efficiency of the dashboard, suffices to help you manage your individual account wonderfully well.
Variety in Experience
You may play rummy in a variety of ways. Therefore, when you gain some expertise, you may try them all. In fact, you may love to have several tables active at one go, provided you are comfortable with multi-tasking! The tables travel with you anywhere and everywhere, nestling comfortably within your pocket!
Discounts and Promotions
The app helps you watch out for specific promotions and discounts, whether you use an IOS or Android Smartphone. This way, you have access to real-time updates at all times.
Real Players
After you have acquired sufficient practice via practice rummy, you may opt for challenging your competitors. They could be from any geographical location. There are always tournaments on hand, wherein you may play for cash. Over time, you should become quite a professional, gaining a comfortable income from the game of rummy.
What kind of tournaments does Rummy Circle offer?
For Practice
After becoming a member of Rummy Circle, you are entitled to receive Fun Cash. It arrives in the form of 10,000 units. They refer to the currency of the company. Whenever you desire to participate in a practice tournament, you will have to pay the entry charges in Fun Cash. Since the practice tournaments exist 24 x 7, you may take advantage by playing them to the maximum. Whenever you win, you increase your Fun Cash and your skills.
For Cash
When you feel confident enough to engage in 'real' play, pay the requisite entry charges and book a seat in a tournament. Each tournament has a different entry fee.